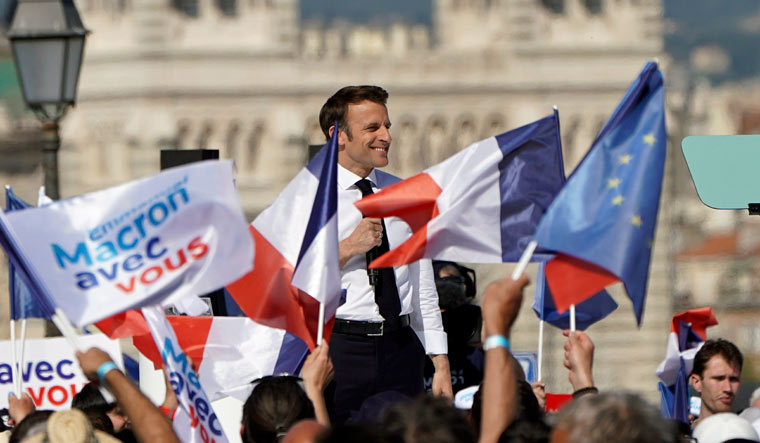 MACRON TROUNCED LE PEN BY 17 POINTS TO WIN REELECTION IN FRANCE
By: Christopher MOBUTU
TRUENEWSBLOG – Emmanuel Macron won re-election in France beating Marine Le Pen, the far right candidate by 17 points. Macron received 58.5 percent of the votes cast — or about 38.5 percent of those registered to vote. Macron's votes (18.8 million) were down by around 2 million compared to 2017.
Marine Le Pen received 41.5 percent of the vote (about 13.3 million votes) 2.7 million additional votes compared to 2017. The trends in demographic breakdown worries many people. If these trends continue Marine Le Pen may win the French presidency in 2027.
Among voters ages 25- to 34, Le Pen won 60 percent of that category. She won overseas territories in the Caribbean — around 60 percent of the votes in Reunion, Martinique, Guyana and Guadeloupe.
At just 53, and having seen off a strong challenge from Éric Zemmour to her right, she is not going anywhere. Le Pen is cementing a durable coalition, one built up over decades. Her vote share was well over double what her father, Jean-Marie Le Pen, achieved in the 2002 presidential run-off, and an 8-point improvement on her 2017 result. If she continues this trajectory, she will be on track to win 47 to 50 percent of the vote in 2027.
There is a massive divide between white-collar and blue-collar France. Professionals split by around 63 for Macron to 37 for Le Pen. Workers with lower levels of educational qualifications split in reverse for Le Pen (66 to 34).—
With Macron effectively creating a party for France's richest demographics, and unable to run again, it's not clear what political legacy he will be handing over to whomever rises to challenge Le Pen in 2027. What is clear is that the supporters Macron relied on — the leftover voters from France's crumbling major parties will remain up for grabs, while the combined voting blocs of far-left Jean-Luc Mélenchon and the far-right Le Pen are much bigger than that of Macron's core supporters.
France has long been a frontline in the battle for democracy — and Le Pen family members have been just one step from the presidency for 20 years now.
The imperative for Macron will now be to starve Le Pen of oxygen, and doing that will require a relentless focus on cost of living something he hasn't been good at so far, but which French voters say is their biggest worry. Macron is a rich banker who probably does not understand the economic plight of those 25-34 years old
Who voted for Le Pen.
Picking the Champ de Mars — the public green space in the shadow of the Eiffel Tower that was the scene of the first Bastille Day celebration in 1790 — as a victory speech location allowed Macron to avoid accusations of bling and arrogance. Still, he would have been better off going to a Macron's address, however, left many of his advisers and core campaign disappointed,The acidic reaction of one adviser:
"The whole thing made no sense. Americanization does not help: The music, the First Lady, the acceptance speech, we are on the verge of the inauguration ball …"
But Macron's willingness to tone it down is a good sign for his governing prospects: "A speech that wanted to be humble and unifying,".
Addressing the anger that infused this election campaign, Macron promised "I am everyone's president," and acknowledged the lack of enthusiasm around his candidacy.
He thanked those "who voted not for me and my ideals but to block the far-right" and promised to hear them and promised to hear the anger of those who voted for Le Pen. Even abstainers got a shout-out: "Their silence is a refusal to choose and we need to answer them."
Macron's government will formally resign this week and is expected to be reappointed with few changes by the time of his investiture (inauguration) May 14. Parliamentary elections will follow in two rounds on June 12 and 19.
Negotiations are ongoing along Macron's loose liberal coalition to present a joint slate of candidates. Tara Varma , head of the Paris office of the European Council on Foreign Relations, said via email that the far left led by Mélenchon and La France Insoumise is working to "form a large left-wing union with the Greens, Communist Party, and Socialist Party." Will that stop the Le Pen in 2027?