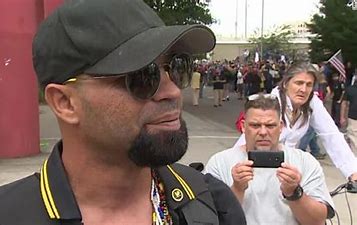 "CIVIL WAR IF TRUMP LOSES" SAY PROUD BOYS – GET YOUR GUNS READY?
A video has emerged of a Proud Boys' supporter warning that there will be a "civil war" if Donald Trump does not get re-elected in November and advises people to stock up on guns.
The clip featuring the self-proclaimed supporter of the far-right group was posted online by actor and blogger Walter Masterson and took place during a Trump rally in Staten Island, New York.
The Proud Boys supporter, who is not identified, describes how the group is "not brawlers" despite being known for their violent rallies and altercations with left-wing groups and movements such as Antifa.
But we're there. We're like the Marines; we're the first to come in," he adds.
When Masterson asked how the Proud Boys reacted to Trump's "stand back and stand by" comments he made during the televised presidential debate, the man said the group took that to mean the president is telling them to "wait for my orders."
"And that's exactly what we're waiting for," the supporter adds.
The clip then shows Masterson suggesting that Proud Boys are "not violent" before jumping to the supporter giving a warning about what will happen if he does not win the election.
"If Trump doesn't get re-elected, there's going to be a riot. If he doesn't get elected, this is when you're going to see a civil war," he adds.